Let me start by asking you a question. Why do we feel like we have to organize our home without any help? Well, the answer to that question is clear. WE DO NEED HELP ORGANIZING OUR HOMES. Clearing large amounts of clutter or clearing clutter on a daily basis takes planning and time. So let's cut out a bit of time (because we like getting chores done in less time).  Here are some coolest, time-saving, easy-to-use home and personal organization apps out there. Read on…
Best home and personal organization apps
After scouring the internet and testing
several apps, I am recommending some of the best home and personal organization apps:*
Our Home-for chores and rewards is a free app that helps you organize and get the chores done. Kids will be motivated to do chores and take responsibility while parents can reward them for their effort. There are shared grocery lists and a family calendar to keep everyone coordinated. And it's free to use with no ads and no hidden costs.
Pros-
– Assign and schedule tasks and chores
– Motivate kids with rewards and goals
– View personal progress and activities
– Add items to the shared grocery list
– Enter events into the family calendar
– Send messages and set reminders
– Stay in sync across unlimited devices
Cons-
-It had some bugs that are now fixed. The app is detailed and takes some time to navigate and learn the ins and outs!
Clean my House helps you manage your house cleaning schedule. Clean My House helps you organize and schedule errands and all housekeeping-related daily tasks.
Pros-
-Scheduled housekeeping and errands
-Organize the chores based on categories
-Daily reminder – set a reminder for your daily tasks
-Set and schedule one time tasks or repetitive tasks
-Simple to use and view
Cons- None that I have seen!
You can not sync across devices with the free version. The description is rather vague about this as you must purchase the full version to sync.
Cozi Family Organizer is an award-winning free app that is a must-have organizer for families. It helps coordinate and communicate everyone's schedules and activities, track grocery lists, manage to-do lists, plan ahead for dinner, and keep the whole family on the same page. The app lets you sync across almost all devices.
Pros-
-Coordinate all family members' calendars, recipes, to-do lists, shopping lists, take photos and make a family journal. The app, I have to admit, is very impressive and simple, yet is loaded with features.
Cons-
Out of Milk-for grocery lists and any kind of shopping list, pantry lists and to-do lists–
Pros-
With Out of Milk, your shopping list stays with you everywhere you go and you'll have it on hand once you're ready to go grocery shopping. The Pantry List allows you to keep track of your pantry items (spices, essentials, etc…) so that you always know what you have at home. The To-Do list helps you keep track of any other items on your daily list.
Cons–
Out of Milk has a system to create several shopping lists. The pantry list is too cumbersome and detailed to update and edit. Inputting all of your pantry items and editing them each time you take something out of the pantry can be daunting. You could update it once a week, I suppose. I simply take a picture of my pantry and take it with me. Ta-dah!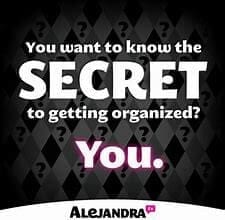 Best personal home organization apps-
Wunderlist is a cool state of the art list app that has endless possibilities in managing lots of cool lists.
Pros-
Wunderlist helps people capture their ideas, things to do, and places to see. Whether you're sharing a grocery list with a loved one, working on a project, or planning a vacation, Wunderlist makes it easy to share your lists and collaborate with everyone in your life. Wunderlist instantly syncs between your phone, tablet, and computer, so you can access your lists from anywhere.
Cons-
Haven't found any myself yet. Works seamlessly with Cortana in Windows. Why have Cortana lists and Wunderlist? When you sync Wunderlist with Cortana, Wunderlist takes over in Cortana as your main list app. So, you have much more extensive list-building and editing capabilities than with just Cortana itself.
 OneNote is my go-to app for all of my personal and business file management and business storage.
Pros-
I use Microsoft all around, so you can imagine how easy this is to use to store files, photos, notes, projects, etc. It syncs with all devices, with the exception of IOS. You need to purchase the Microsoft for IOS software to sync Microsoft software. I use OneDrive as my cloud service and it syncs beautifully there. What I also love is that I can sync any file I want to Google Drive with my Google Drive plugin for Microsoft. So I can seamlessly use either cloud service.
Cons-
If you don't use Microsoft as your main platform, then you have an extra step in syncing devices. But it works wonderfully as a stand-alone platform too. The design is rather simple. I love pretty interfaces and Microsoft needs to improve on the aesthetics of this software. It is rather plain and mundane.
Pomodoro is a time management tool that is truly amazing.
Pros-
It is simple and easy to use. You log your daily tasks into Pomodoro and set a standard time to work on each task. The key is that you work on each task the same amount of time and take short breaks between each one. You also take one long break midday, to rest and recoup for the remaining tasks.
Cons-
The free version limits the number of tasks you can track. So, if you have more than a few tasks each day, you need to purchase the paid version. But it is inexpensive. I think I paid $4.99 in the Google Play Store.
EverNote is a software that is a lot like OneNote. I tried it a few years ago and went back to OneNote as I am an avid Microsoft user.
Pros- If I was not an avid Microsoft user, I would use EverNote. It tracks limitless projects and lists and allows you to add almost any content to them-photos, notes, web links, art, audio, etc… And it syncs across devices. You can easily share content with others. The interface is easy and simple to use.
Cons-
Quora review states: "Evernote has no calendar as such – it understands dates, but you can't see a standard calendar layout for your next month's activities.  It doesn't do alarms much either – a very discreet pop-up will (if you see it) remind you of an event as a one-off. There are no repeats, and if you want the same reminder two days running, you have to reset it yourself after the first one."
To-Do List (Splend Apps) is a smart task list app for everyday use. Features include:
• User-friendly task management
• Grouping tasks in handy task lists
• Smart home screen widgets show instantly what to do
• Intelligent notifications exactly when you need them
• Syncs across devices
Pros-
• Notifications use sounds, vibrations, and a built-in speech synthesizer (TTS)
• Icon widget – icon with optional today's and overdue tasks counter
• List Widget – widget displays upcoming tasks
• Status bar – component (in the notifications area) keeping you up to date
• Quick Task Bar – to add something quickly
• Support for recurring tasks
• Time for shopping? Need to add many tasks in one go? Great, batch mode is on-board!
• Support for tasks without a due date, all-day-long tasks, and tasks at a specific hour of the day
• Bidirectional synchronization with Google Tasks
• Many useful configuration options
• Predefined task lists
• Actions on a group of tasks (bulk actions, long-click selection support)
• Integration with sharing on Android – sharing tasks with other apps and receiving shared data
• Creating tasks from the content of the system clipboard and adding tasks via voice activation
Cons-
Task lists are listed either in alphabetical or in the order you enter them. You can not change the order of them beyond that.
Notepad Free is a small and fast app to create and edit text notes.
Pros-
Can create and edit text notes
Can share notes with other apps (e.g. sending a note in Gmail)
It has widgets that allow you to quickly create or edit notes
Cons-
You cannot organize your notes into groups or folders. This makes it hard to locate notes. You can not install or save notes to your SD card as the app begins to misbehave.
Best productivity routine (by yours truly)-
Have a morning routine.  The most successful people have morning routines…here is the story.
Make a simple daily plan   What I said above. ?
Be realistic.  Don't set up too much of anything.  Small, well-thought-out baby steps work just fine and make for great achievements!
Drink water  According to healthline.com, we should drink 8 eight-ounce glasses of water each day. If you are outside, in a hot environment, or exercising-add three to four more ounces to each glass.
Move your body.  Stretch!!! I believe in simple stretching routines. I also strongly believe we should only perform the exercises that we truly love to do. That way, we keep on doing them. Find the ones you love…
Make quiet time each day.  I am not a big meditator. Yet, I do believe we should relax our minds and bodies once every hour for a few minutes. Simple sitting and closing your eyes and breathing, relaxing our tongues, our muscles do wonders for our attitude and motivation, not to mention bringing down our heart rates. ?
Be patient.  Cut yourself and others slack. Don't rush anything. When we do, we usually come up with an inferior outcome. Slow down, think and practice until you "rock" whatever it is you are doing.
Be understanding.  This is key. Cut others slack whenever possible. Unless someone is trying deliberately to mess with me, my family, or close friends, I YIELD! That simple.  Watch when you do this and see people's responses. 99% of the time, the response is positive and full of gratitude.
Be persistent.  I mean in a gracious way too! If something feels right in your heart, and it's important, keep chiseling away and it will happen!
And remember, GREAT GOALS ARE HARD WORK.  If it is great, then it should be simple, but not easy to do. Great goals take all of the above and most of all patients,  trust in yourself, moving forward-baby steps are good! 
*You can find these apps in the Apple store or the Google Play store.