Cut Time Getting Ready in Half
This formula can help you do just that…
A few weeks ago I posted an article about how to Declutter the Closet.  I am going to show you how to take those few fabulous essential pieces find your recipe style and cut time getting ready in half.
Most of us go to our closets and stare at our clothes wondering what outfit to wear. We stare and stare and then grab a few pieces from an overcrowded, overstuffed, unorganized closet and desperately throw them on to make an outfit. This can be a bit frustrating. We then convince ourselves that we look "ok" and head out the door. Having style and good decision-making when it comes to your wardrobe takes a bit of time and effort. Not hours, but maybe one or two and you are set to organize your "getting ready time" and find your recipe styles.
One of my fellow bloggers, Jodie Filogomo at Jodies Touch of Style published a great article called Recipes for Dressier Occasions. It featured just this, with fellow blogger-me and her stepmom and mom. Using my  Declutter the Closet plan and the outfit formula/recipe styles concept from Jodie's post, we have the perfect combination to declutter, organize, and look fabulous with fewer clothes.
Do you feel exhausted when you look at your closet? Or do you excited and motivated? If you feel exhausted, you should look at what you have that you can wear that makes you feel fabulous and looks fabulous on you. Don't keep things that no longer fit, or that you don't feel fabulous wearing! If you have a few classic valuable pieces that you can wear, but it motivates you, keep them. But just one or two!
Create a Gorgeous Style in Minutes-Cut Time Getting Ready in Half
a weeded, decluttered, and organized closet that makes you feel energized
the ability to see all of your clothing so that you can start to make an outfit formula(s)
the ability to easily and quickly organize great outfit recipes  from your formulas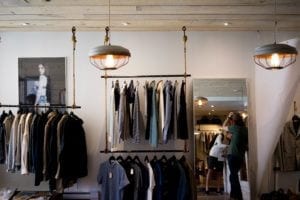 Cut time getting ready in half is not as hard as it sounds.
Write down what you love to wear most by season and then by the occasion. Think about your favorite style to wear. I love to wear athletic clothing. I buy stylish athletic clothing and accent with colorful shoes and colored watches. You then make a chart by season and list what few key pieces you will add to your recipe. Then make your favorite outfits for the occasion. You are set once you develop recipe outfits for each season by the occasion. Use a styling app! The Online Mom has ten here to consider. And why not try a few. Sounds like fun.
If you need to shop for affordable, durable, chic bedroom and closet storage ideas, take a look at my Amazon Bedroom Organization Shop! You'll find some really super deals that can easily meet your styling storage needs.
Cut time getting ready in half and shop your closet for new outfits
Not all of the clothing in your closet will fall into a recipe. Pieces that don't can be added to your current favorite recipe as accents. They can add flavor and change the recipes up! I am off to make my Recipe Charts. Again, start here Declutter the Closet if you need to declutter and weed your closet first here before you begin to organize your recipe outfits. I hope you enjoyed the post-cut time getting ready in half. I know this is so important. We all want to look good and save time too.
See you soon…
*Style blogger Anuschka Rees shows how to take your wardrobe to the next level and streamline your morning routine in her new book The Curated Closet.