Honestly, decluttering your home is probably not at the top of your list? Probably doesn't give you joy or bring a smile to your face, until it's over and you see the beautiful results. Then it does.
Decluttering your home can be the most mundane part of our lives and not the most fun according to our brains. Or is it? People need freedom but also, structure. I mean, look at children. They require it to become functional happy thriving adults. But we adults need this to free the clutter from our environment and our minds. This gives us the room and freedom to do the few so very important things that matter the most to us. Decluttering Your Home and home office does not have to be a daunting task but something simple that you do on a regular basis.
Here is my take on a simple classic structure that I use to help others (and myself) declutter and purge their home. Subscribe to receive free a free morning and evening routine checklist and free organizing tips and tools every week or two directly to your inbox!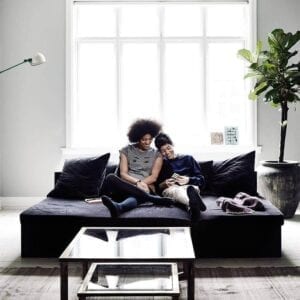 Start Decluttering Your Home Now
Don't procrastinate. Be kind to yourself. Give yourself slack. Come on, we all try to declutter and keep organized but life gets in the way.

Don't wait for the crisis-do it-with feeling, intention, and intuition. You are the expert at organizing yourself.

Prepare to Declutter
Where to begin? The laundry area must be ready when you purge. The cleaning supplies must be there to clean the first area. Then pick one small area to declutter. Do this before you think about organizing. What will you use now and in the future and what items do you really love? Put all items out to decide what you love and keep and what goes. 
The First Area To Declutter-  A Small Area Please!
Start and finish the first small area. Don't go any further until it is done. Spend a half-hour a day (or more if you get excited) on this area until it is done. Only concentrate on one small manageable area at a time.

Celebrate the first area. Congratulate yourself on a job well done. Do something that celebrates this accomplishment. Something you love to do. Pamper yourself.
Your Vision
Envision your new surroundings. Write down your exact vision of what an organized home looks like to you. Spend time doing this. Draw a picture and list what is so important there. What you love and will use the most.
Prioritize What Areas You Will Declutter 
Make a home decluttering checklist of what areas by the importance that you will declutter. Spend time on only one at a time and spend a half-hour a day (or more if possible, but not required) decluttering this area putting everything out, and deciding what you love and what will go. Everyone is different. A suggested flow may be:

Closet, then the bathroom(s) then the bedroom(s) then the kitchen and then the den and then the living room and then the garage, and then the basement….

Celebrate each area that you have decluttered. It feels good and you should express that.
Pat Yourself on the Back
Scan your surroundings and see what changes have happened to you, your behavior, and your feelings about what you have done and what has come of the newly organized environment. You are on your way!!
See you soon…