Making simple Christmas menus is the key to relaxing and spending more time doing what we want to do most. We want to spend most of our time celebrating the holiday with our family and guests. So why is it hard to be more intentional and simplify our holiday menus? But before we get into making simple Christmas menus, I have a funny story to tell you!
Panic at the Phillips Household
I spent two hours writing this post yesterday. Writing a blog post can take up to a week, depending on what the topic is. There is research involved, designing the SEO (don't ask, it's a complicated blog term) strategy for Google, taking and editing photos, writing the post, and the final edits and publishing it. Well, as I said, I sat down to write "making simple Christmas menus" to help you all organize your holiday meal planning. The benefits of this are almost endless, but the main ones are that we make delicious simple meals and relax and spend more time celebrating the holidays. Being a slave in the kitchen is not fun!!!
Well, I went to type "making simple Christmas menus" and one of my written draft pages was missing. PANIC! How can one page be missing? I searched and searched and searched. Finally, I realized that I would just sit down and ask you all for forgiveness and have a laugh about it. And, from a positive standpoint, everything happens for a reason. I must ask myself, that content was not supposed to be in the post, to begin with.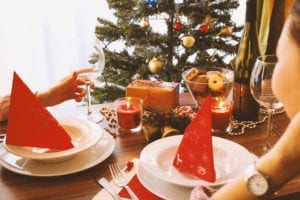 Now onto the Post-making simple Christmas menus
Since I lost the first page of my draft, I'll do my best to summarize it here. I want you to download my menu plans and use them to plan your menu preparation the week before Christmas.
If you have already signed up and joined my community, THANK YOU! I plan on sending each of you one in an email soon. Please click the box above if you have not joined and enjoyed simple exciting ways to organize your home!
We are going to talk about the Christmas Eve menu first. Simply put, most of our waking hours before Christmas are spent cooking Christmas dinner. To reduce our stress, don't cook dinner the night before Christmas! Two excellent options are to make a healthy casserole in advance and freeze it. We love Butternut Squash, Portobello, and Spinach Casserole With Sausage. You can whip it out of the freezer and cook and serve. Sandwiches are also a great lite dinner as we will be eating a feast the next day. We use vegan sausage. There are some tasty options for veggie-based meat substitutes out there now.
A Big Plus When Making Simple Christmas Menus-The Simple Morning After Christmas Breakfast
Much like the Christmas Eve menu, it's essential that we keep things simple and easy. This advice works well even if you don't have guests. I got this crockpot oatmeal idea from Sharing a Journey-Nina Bandoni.  We make apple pie crockpot oatmeal. I found this recipe at Oh She Glows! and make mine the night before so I just get up and viola. It's ready to eat. Use steel-cut oats for the overnight method as they hold their consistency better than regular uncooked oats.
We can also not cook. Yes!!!! Put some bagels out with fruit and you are done. We are eating more plant-based meals, so we use non-dairy cream cheese and Earth Balance. Tasty!
The Simple Christmas Menu-
Making simple Christmas menus. Leave the stress behind…
Now, I designed an awesome simple easy to make Thanksgiving menu a few weeks ago. We plan on making it again for Christmas. The Mushroom Wellington was too delicious and easy to make. Then, I plan on making a scrumptious dessert from Jamie Oliver called Pear Tartin.  This is a simple delicious French dessert. It looks easy, simple, and elegant. I found it on his show and must try it.
In my next post, we will talk about organizing for the new year. It's here can you believe it-2018!!!
OK, see you then. And join my mailing list and receive free holiday menu planners. Don't miss simple effortless ways to organize your home!