Organize the garage
The short and sweet method
Winter is coming. It is. I love winter. I consider winter to be one of my favorite times of the year. First, I love the holidays-Halloween up until Christmas. And I love to organize my (and your) home. Winter gives me the time and the solitude to rethink each and every purpose to my rooms and what I love to do in them the most. Use the long winter months to organize the garage.
Time to organize the garage
I do a massive decluttering "think tank" where I visit each room and journal about what I have done in each one and what I want to change or transform in each room. I designed a fantastic easy plan for journaling your home HERE. It gives purpose and a real joy to think about the passion and love for our homes. And after all, they are our sanctuary. I include some affiliate links to products that I have used and tested myself. I know that they are some of the best products to use to organize your garage. When you purchase one of these products, I receive a small nominal fee that helps keep my small blog up and running.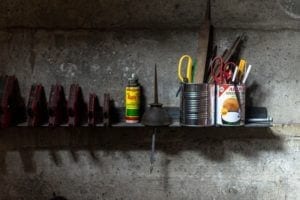 Method-organize the garage-the Four Quadrant Home Organizing Method
This site contains valuable affiliate links for your convenience to help assist you with your home organization.  Read my full disclosure policy HERE.
Pick the dates. Pick two to three days to declutter and organize the garage. I suggest doing this over the weekend and getting it all done at one time. The chances of doing some decluttering in one day and then walking off are great. Get it done and over with.
Move everything to one of four corners of the garage-the Keep corner, the Toss corner, the Donate corner, and the Sell corner. Once you have gone through everything, move the Donate and Toss items and donate and toss now….. Then, organize the Keep and Sell items. This is where you want to do a bit of thinking about how you want to sell your stuff. You can use Craigslist, Amazon, or have a yard sale or two.
For the Keep items, do some thinking about what you are keeping. Are the things that you use regularly? Is your garage climate controlled? If any of those items can not stand cold or heat, move them to another area of your home. An example is holiday décor. I never keep my holiday décor in the garage.  I am lucky enough to have a basement so I store them there in these terrific Holiday Storage Bins:
Process
We have 5 of these shelves-two in the garage and three in our basement. I literally store almost everything in my garage on these shelves and we can fit two cars in our two-car garage with no problem. You can find them here in my Amazon Store under Storage/Shelving!
Maintenance
To keep organized, I label these storage bins so that I know what is in each one at a glance. The rolling shelves are super cool as you can see everything that is on them. You can find them here in my Amazon Store under Storage/Shelving!
Hacks
Use journaling to organize and design your dream home  
Next time around…
And don't forget to join my community to get that home organized in less time and without all of the hassles… and sign up for free monthly worksheets and classes above.