Journaling boosts productivity
Using a journal to organize your home (and more) probably has you wondering and your eyebrows raised. What in the world does journaling have to do with organizing anything? Why do I need to write down my thoughts and actions about organizing my home? Simply put, journaling boosts productivity. It is well documented that writing down your wishes and dreams makes them come true. Maybe not in a perfect way, but your thoughts and hopes take root and begin to happen, little by little. Read my post on how having a clear mindset makes organizing your home easier here at Decluttering Mindset
Journaling Boosts Productivity
Many professional successful people journal. They do it each and every day. Most do this first thing before they start their day. The journal to stay organized and on track. They also journal to visualize their end result. If you aim at nothing, that is what you get. For every 30 minutes you spend on planning, you gain one extra hour of time. Journaling also increases motivation. The more you visualize things, the more they become real. Our thoughts control our destiny.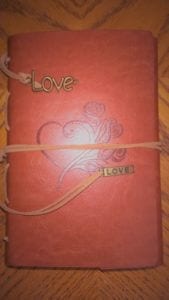 Dorie Clark from Forbes magazine did an article featuring  Teresa Amabile book The Progress Principle: Using Small Wins to Ignite Joy, Engagement, and Creativity at Work (co-authored with Steven Kramer): "One of the big reasons to keep a diary is to record small wins that otherwise might slip through your memory," she says. "You can leverage the progress principle and allow yourself to get that boost from realizing you are making progress. And it's also helpful to record major setbacks – or minor ones that recur – so you can think about how to get rid of inhibitors blocking your progress." Read more documentation on how journaling boosts productivity here in Forbes Magazine.
So there is evidence that journaling boosts productivity.
Being productive may sound boring. Part of organizing a home involves being creative and finding our passions for each space in our home. Home is where the heart is right? The trick to falling in love with your home again lies in finding comfort and the assurance that our home serves us. That each room provides for our basic needs for comfort, nourishment, and joy.
Journaling Boosts Productivity and Creativity
It starts with getting a simple journal. It could be a pad of notepaper or a cool leather (but inexpensive) journal like the one pictured above. I love my journal. It is quaint and simple yet classy. I am motivated to use it as I love to write in it. Now, once you get a journal that you will use, journal about each room. For each room, write down what that room should do for you and your family.
An example is a kitchen. If I journal about my kitchen, I would focus on nourishment. I want my kitchen to nourish both me and my family. Nourishing yourself should be fun and rewarding. So, my kitchen should be organized, all items easily accessible and only contain the dishes, utensils, and food that I love. I make this a reality by weeding and taking just a bit of time each week to re-check my pantry, refrigerator, freezer, and cabinets. I don't spend more than 15 minutes doing this as I check each week so it is easy. It also saves me time and money as I only buy the groceries that we truly need and my tools (dishes utensils and pans) are at my fingertips. Cooking takes less time and is more enjoyable.
Your first assignment is to get your hands on a journal that you will use. Once you make a list of each room in your home, start to write.  Journal what each room is meant to do for you and how to make this a reality. Write about your wishes and passions that list exactly what your wishes and passions are for each of your rooms. Write down what the top function/passion is for each room. Keeping a running list is ok, yet you must identify the top one to keep your eye on. Then journal how you want to feel (and others to feel) when they use that space. Do this for each room. All of them.
This will take a bit of time. Trust me when I say that journaling boosts productivity and vision for a better life. The life you dream of. You will love what you'll discover about your desires and wishes for each space/room. You will love what you discover about your needs for each space. Envisioning each room is key to staging your next task-decluttering each one. Check out my blog section on decluttering to find posts about decluttering your home. Next up I will talk about organizing your kitchen.