Your 2018 home organization resolutions should be your vision for the year…your goals, your action plan for success. It's the perfect time to start getting your home organized! How many of us make New Year's resolutions? And keep them?
"The secret to getting ahead is to get started!" Mark Twain
Ultimately, I call resolutions our intentions for ourselves for the new year. They are important. I include them in my simple annual action plan, and my 2018 home organization resolutions as well. I want to challenge you to put your 2018 home organization resolutions at the top of your list. Now is the perfect time to start planning to clear clutter and organize your home. I wrote an awesome post on creating the mindset to help successfully clear clutter and keep your home organized. Creating a strong mindset is key to accomplishing anything important to us.
2018 Home Organization Resolutions
Rather than lecture you on what your 2018 home organization resolutions should be, I decided to create a list of compelling questions for you to ask yourself. These will help you create your own personal 2018 home organization resolutions that you will want to work on. Not ones that are simply handed to you.
Q & A Time!
Let's ponder the following questions. I love journaling so go grab a pad of paper or your journal and start answering the following questions:
What are your home organization's dreams? What is your vision of an organized home?
How do you want to make your home more productive? How do you want to get more done and still feel relaxed and refreshed?
Where do you spend most of your precious time? Why? How can these spaces better serve your needs and help you be more productive?
Now, how can we make this a reality? What is holding you back? What one thing would make it easier to make these 3 things happen?
There is merit to discussing not only our dreams and intentions for how we want our space to serve us….or in other words, what we want from each room? For example, the bedroom should be a peaceful sanctuary where we achieve complete relaxation and satisfying healthy sleep. How can we re-organize to make this happen?
We Need to Find our own Personal Style
What is your personal home décor style? I love a bit of French contemporary style with the layering of plants. Plants promote both my and my family's overall well-being… They clean the air and provide a beautiful atheistic. This style also creates warmth in our space that feels comfortable and like we are outdoors. Since we live in the Midwest where the weather is a bit frigid for 4 months of the year, plants are a wonderful way to develop that feeling of being close to nature. What are your needs or how do you want to feel in your home and in each room?
Do you prefer minimalistic or plenty of things incomplete order? Organized spaces not only serve our needs and make us productive but make us feel valued and settled in spirit. These two things-our needs and productivity are key. Now it's time for another series of questions.
What kind of plans will help you clear your clutter and organize the most?
Simple room by room checklists
Simple Meal Plans-with 3 to 4 ingredients to make it super easy
Routines-waking and evening checklists to help you set your intentions for the day
Top 3 for the day! What are your top three to achieve today?
Daily decluttering routines? This is key to keeping organized.
Major decluttering courses or eBooks?
Something else that I have not thought of!
Please take just a second to leave a comment below and tell me your top 2 choices above that would help you clear clutter and organize the most?
Annual Home Organization Plan Ideas
Next time on the blog we'll talk about making a usable, simple annual home organization plan. And we won't be designing a long-winded detailed plan. Science shows that humans are much more productive if they focus their energy on one thing at a time. So, that is what we will talk about and break down our home organization into small steps-one at a time!
I am featuring one of my readers today named Ginger Antonelli. A special shout out to her for all of the support and encouragement she has given me since I started my business back in March of this year. Here is a very cool closet organization hack that she posted on my Facebook Group, RYouReadytoOrganize? She suggested using shower curtain hoops to organize and hang her tank tops! Very clever!!!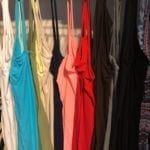 I am featuring one of my favorite recipes from Pinterest in each new post. Check out this awesome, healthy dish Roasted Sweet Potato Rounds recipe.  You know that I have an entire section of my business dedicated to making more meals with fruits and veggies called The Green Kitchen. This healthy yummy side has just a few simple ingredients and takes just minutes to prepare. Right down my alley! Our time and health are precious to us so let's make simple healthy meals and have it all……
Take a load off and listen to my latest podcast on YouTube and get the holiday feast organized and ready for Christmas!