We are all at home in light of the coronavirus pandemic…so why not get organized in one weekend…or close to it!
It has been 3 weeks since it hit the U.S. With all of us spending so much time at home, there are a few key ways to get organized in one weekend. Taking on a special project can ease our anxiety and boost our morale.
This is the time to get organized in one weekend and refresh our homes and spring clean. To add brightness and cheer to a part of the house. But who wants to spend days turning their home upside down in the name of Spring Cleaning? Especially when we can get organized in one weekend!
I was a little ahead of the game. On January 21st, I had shoulder surgery on my right shoulder. I couldn't move my arm or write for 4 weeks. Knowing I would not be able to shop or cook much, I stocked up. I filled my entire pantry and freezer. Little did I know that I was preparing for one of the worst pandemics to hit us in years. Because of this….
I have put together a short summary for you to follow to get organized in one weekend.
Let's jump right in!
I have included recommended products from Amazon for your convenience. RYouReadytoOrganize is a participant in the Amazon Services LLC Associates Program, an affiliate advertising program designed to provide a means for sites to earn advertising fees by advertising and linking to Amazon.
You may recall a few posts ago where I offered a free worksheet and paper organizing flowchart to my subscribers. I re-posted this from 2018 as I get so many requests to help folks organize paper. If you missed this and want a copy, subscribe and send me an email (re*************@ry*****************.com) and I will send this to you personally. You will also receive free monthly worksheets for as long as you are a subscriber. A terrific value. Here is the subscribe link: You can also watch the free live class on IGTV here!
PAPER-get organized in one weekend?
So, on with the paper. Try placing a small table or desk equipped with file organizers (outfitted with labeled folders) and recharging docks near your home's main entry to handle incoming and outgoing electronics, mail, and paperwork that needs returning to your kids' schools. Choose a furniture piece with a drawer so you can keep postage stamps, envelopes, note cards, and other mailing supplies within easy reach. This makes organizing paper and electronics much easier.
Get organized in one weekend-CLOSETS
Flush your closet with clothing you haven't worn in 2 years. I know. I know. This could take you and a trusted pal to help "get real" and freshen your wardrobe. Wouldn't it be great to see just what you wear in front of you? It makes it easier to form sassy classy outfits and you won't need as much time to get ready.
MAXIMIZE THE STORAGE YOU HAVE
When you're short on built-in storage, look to dressers, sideboards, kitchen carts, and bookcases to hold everything, including bath towels, bed linens, kids' toys, and gift-wrapping trappings. Move-in freestanding wardrobes or antique armoires that suit your style preferences. Outfit under-the-bed voids with specialty roll-out organizers and storage bins. Much of these can be found at The Container Store (no ad). Shop in-store or even better right now, online.
OUR KIDS
Kids are more likely to put away their clothes, toys, and sporting gear when storage is customized to their sizes, interests, and needs. Place closet rods and wall hooks within each kid's hanging-up reach. Outfit bookcases with see-through bins or baskets. Identify each container's contents with a digital photo (for toddlers) and labels.
CONVERT A CLOSET INTO A SMALL OFFICE
Lucky enough to have an underutilized closet? Optimize its potential and purpose by installing a work surface, mounting adjustable shelves, and arranging colorful organizers to hold office supplies or crafting gear. Hang a bulletin board or paint the wall behind the desktop with magnetic chalkboard paint to create an easily updated memo center.
USE THAT WALL-Another under used thought when get organized in one weekend!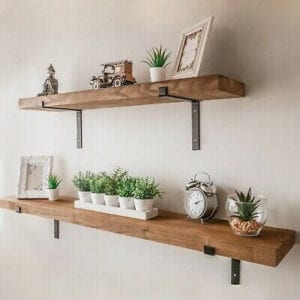 Think of underused walls as blank canvasses that can accommodate hardworking functions presented in refined forms. Enhance storage and display capacity by mounting antique wall cabinets, modern metal ledges, vintage corner shelves, and breezy wire planter baskets that act as good-looking exhibit spaces and catchalls for all sorts of gear.
Here are some great shelves on Amazon to choose from to get organized in one weekend:


The most important way to get organized in one weekend-CLEAN OUT YOUR MAKEUP AND MEDICINE CABINET
Simply put, if you want to get organized in one weekend, toss everything you haven't used in a year and restock. Clean all makeup brushes and toss sponges and buy new ones. Wipe all your makeup cases down to remove any gunk or debris. I love doing this! It makes me feel so fresh when I have a sparkling clean makeup vanity and medicine cabinet. Don't forget to go beyond your cabinet and sort all of your medicines and personal care products.
This post, get organized in one weekend, is a good list to start a total home overhaul without getting overwhelmed. And of course, don't tackle them all in one weekend. Pick and choose your battles wisely. Or, those that grab your interest. The ones you know need it the most. A great place to get started.
I feel so blessed that my shoulder is on the mend and that this surgery was a blessing in disguise. We must believe in our destiny and trust we are on the right path. Not always an easy thing!
Next month, we'll start building our indoor and outdoor gardens. A super fun and rewarding home organizing journey. Join us and subscribe for my free worksheets that go out to subscribers at the beginning of each month, along with free live classes on my Instagram (IGTV) account.
Until then, thank you so much for stopping by and visiting my blog. Feel free to share this and any of my other posts that you find helpful. It would mean the world to me. See you soon!