Homemade Stock Using the Instant Pot
You may remember my post last year raving about my easy homemade stock. I never live without a batch in my freezer. I use it in almost anything savory that needs liquid! Here is that original post:
Homemade stock Using an Instant Pot
This post is the third in a series that celebrate ways to save time and money using homemade vegetable broth. Don't toss those ordinary vegetable trimmings anymore. Save time and money using homemade vegetable broth, decrease food waste and make flavorful meals. I have a confession. I love to cook and have a lot of time to cook.  Most families don't! They want dinner whipped up and magically appear on the table.
Well, you need a genie to have your dinner served magically on the table each night. Better yet, I can give you some simple easy tips on using those vegetable trimmings in miraculous ways. Ways that will save you time, money, cut waste, and make your everyday meals taste every more delicious by using homemade vegetable broth.
Why this recipe is so great!
In my two previous posts Compete Easy Freezer Meals and Easy Delicious Freezer Meal Ingredients I talked about how easy and simple it is to make and freeze your meals and ingredients to keep your favorite meals at your fingertips and cut the cooking time in half. The third tip is so ridiculously simple and logical that I was embarrassed that I was not doing this for years. Making vegetable broth from scrap vegetable trimmings is not only delicious but cuts waste and makes your delicious meals even tastier. Join the community to receive a free holiday menu planner and free organizing tips and tools every week or two directly to your inbox! 
The form you have selected does not exist.
I discovered this trick two years ago. I had some leftover vegetable scraps that I was getting ready to toss and it hit me. After chopping celery, carrots, bell peppers, and onions one day, it came to me. Why toss these scraps? Why not make broth and freeze it for future meals? All I need was a stockpot and cheesecloth. I make my own vegetable broth with just veggies and water. Here is another recipe for the vegetable broth at Allrecipes.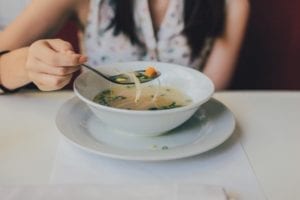 So I did. I use vegetable broth now instead of water in most meals. It is particularly delicious in rice and couscous and in boiling beans and pasta. The flavor is wonderful and sets meals apart from those that use water. Simply toss the trimmings in a pot with your favorite herbs and boil for an hour or so. Strain and freeze. I use mason jars or plastic storage containers. I don't add salt until I use the broth. That way I can follow the recipe's instructions for salt and control our sodium intake. If I do not have time to boil them right away, freeze the scraps and boil them later. The scraps and stock will keep in the freezer for up to two months.
Homemade Stock Using an Instant Pot Video
Now, fast forward to November 2018. The month I bought my first Instant Pot. I hesitated. As a home organizer, what was I thinking? It slow-cooks, can saute, pressure cooks, can make yogurt, and on and on. I love multifunction tools. But did it stand up to my standards? In a nutshell!
YES! I first made beef stew, then butternut squash and hominy soup, and then I had to try my homemade stock. I was not disappointed. It took the same amount of time as the stove, but the plus, I could throw everything in the pot, set it, and forget it until the next morning. Here is how easy it is:
Here's how easy it is to make homemade stock using an instant pot. Throw your favorite veggies and herbs (Use herbs. They add a big flavor boost.) in the pot to one-half full. Do not peel or chop unless the veggies are super big or long. If you want meat, add a bit of time to the recipe and test. I only use veggie stock. But adding some time should do the trick. Put the lid on and click "Slow Cook" for 2 hours. Do this at night so that it can slowly cook and continue to cook. In the am, wake up, open the lid, and there you have it. Yum.
I add a touch of salt, but it is not required. It is that easy.
I bought my Instant Pot at Bed Bath and Beyond. If you subscribe to their coupons in the mail, you can get an extra 20% in-store (not online). My 6 quart Instant Pot was $129 retail and I got it for $106, including tax. Amazon sells great accessories for them as well, so check them out for more fun.
Now Make That Homemade Vegetable Broth, with whatever method you choose…
There are so many good reasons to make broth from vegetable scraps. Try this yourself and you will see the greatest benefit is the boost of delicious flavor it will add to your favorite meals. Check out my blog page, the Green Kitchen for more great ways to increase productivity and organize the kitchen and other areas of your home.  Subscribe to receive free a free morning and evening routine checklist and free organizing tips and tools every week or two directly to your inbox!