Laundry Storage Tips Revealed
Let's use simple ideas for a more productive laundry room!
Today, we're talking Laundry Storage-or laundry storage tips revealed. An unruly laundry room can make wash day a drag—but it doesn't have to. This problem made me search and find answers to our laundry room storage issues. Well, maybe not so secret. But very simple, key things you can use to boost your laundry room storage. You can find all of these amazing organization storage items in my Amazon Store here!
Why use these tips? I get it. I need help organizing my laundry area too. I have a small area in the basement for laundry and can use all the help I can get to keep it tidy.
We save time
We save money by not chasing things down or buying products we don't need.
We save space
We have a sleek, organized laundry room!
Read on…
The key to organization is finding a place for everything and keeping everything in its place. Granted, that's easier said than done, but simple tips can help you stay on track. Tuck small items tidy in attractive containers, for instance. Or utilize labels on storage containers, laundry baskets, and more.
We worked with a professional organizer to shape a small, storage-savvy laundry room. Read on to steal some of our tips for your own laundry room and discover why "laundry storage tips revealed" will solve almost any laundry room storage issue…
Laundry storage tips revealed tips and products: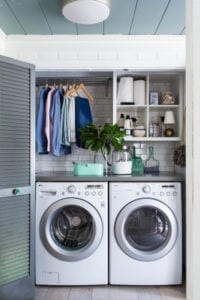 Mix Function with Flair
In the washing area, deep base cabinets house the appliances, and wall cabinets hung above keep detergents and supplies within easy reach. The countertop above the machines provides ample folding surface, while open shelves to the right of the dryer stow bright red totes for transporting washed-and-folded pieces. A bold-pattern indoor-outdoor rug adds an energetic, functional style.
Accessorize On the Cheap
Affordable accessories coax valuable functions from underused walls and crevices. A shower curtain tension rod spans an open area between the upper cabinets and a wall to become a hanging rack for items fresh out of the dryer or just off the ironing board.
A Place for Everything
Simplify sorting and—and make it a snap to put items back—with decorative laundry labels. Above the dryer, a plastic tote is dedicated to misfit socks, so all family members know where to search first when items go missing. A clearly labeled coordinating tote gathers batteries, light bulbs, small home-repair tools, and other utility staples.
Out to Dry-$$$ Saving best of tip for Laundry Tips Revealed!
A drying rack for exercise wear and delicate items is essential for a successful laundry room. In a tight space, choose a wall-mount version that collapses to just a few inches thick.
Catch Clutter
Lidded glass jars provide homes for clothespins, orphan items discovered in pockets, and sewing notions for quick garment repairs. A shallow galvanized bin unifies a mix of vintage and new containers.
Go-Anywhere Solution-One of the best Laundry Storage Tips Revealed!
A slender tiered cart with cleaning supplies parks alongside the laundry machines—or wherever it's needed—adding a few vertical feet of shelving to a small nook. Storing heavy detergents on the cart is safer to lift and move than if stored in upper cabinets.
Designate a Sorting Station
A tall shelving unit anchors one corner of the laundry room and is outfitted with canvas bins that gather garments by type, color, and care. Orienting a washtub nearby lets everyone remove stains and pre-treat soiled clothes before moving on to washing and drying.
Prevent Mix-Ups
Small mesh bags, one for each family member, ensure everyone's socks aren't mixed up in the washer or dryer. Clipping bags outside hampers remind family members to sort out their socks.
Save Floor Space
This smart setup makes ironing a cinch. A metal mesh cady secures the ironing board to the wall when not in use, and its built-in basket provides handy storage for the iron and sprays starch.
Laundry Day Art
Combine function and beauty with laundry artwork that illustrates a wash day checklist. Placed above the utility sink, the art adds a touch of color and whimsy.
Re-purpose Storage
A toothbrush holder mounted near the utility sink is stocked with stain-treatment sticks. This storage hack makes it easy to attend to soiled garments before they proceed into their intended bins.
Laundry Stain Removal Tags
Take the guesswork out of stain removal by keeping a cheat sheet or care guide nearby. Just print, cut apart, hole-punch, and slip onto a binder ring. We laminated these tags to repel moisture and stand up to frequent use. 
Bonus: Laundry Basket Labels
No matter where you stash your laundry baskets, keep them organized with labels. You can make your own labels using scrapbook supplies, or download our printable versions. To make your labels last, cover the fronts with clear contact paper to waterproof them. Clip labels with painted clothespins or adhere to the containers with spray adhesive.
Shop these great storage ideas in my Amazon store here!
You can find more great info on taking your cleaning skills to the next level in my article about natural cleaners here!
Thank you to Better Homes and Garden for the inspiration and tips to share. I send free home and garden printables each month. Sign up to get yours here!