Spring Cleaning The Yard
I don't know about you, but when it comes to decluttering and purging, most people, including myself, kind of forget the garage, yard, and patio when we think of "spring cleaning the yard".
We focus on the home interior, when in fact, usually the most pressing decluttering needs to happen in the other parts of the home. Yes, I am talking about that garage, the basement (wow), the yard, and the patio. In fact, I love to declutter and reorganize these areas just as much as I do inside of the house. Spring cleaning the yard is truly fun and rewarding. We plant perennial gardens so that they provide beauty year after year.
It's a bit more complicated where I live; we have winters. Not snowstorms, but cold rainy, and sometimes icy weather. So, my yard and patio sit there all winter until around the end of March waiting for a good declutter and clean-up. And the garage is full of projects as we can't get outside and work on these. So, next, the garage needs help.
First, we focus on the yard. When the temperature reaches 50 degrees, my husband and I make a beeline outside. Here is our plan of attack: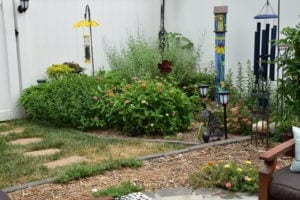 Spring cleaning the yard-decluttering small areas at a time! The key to getting it done…
Have your supplies ready. No matter what type of yard you have, you will need to gather your rake, weed puller, hedge trimmers, gloves, and plenty of paper bags. The idea here is to keep these tools clean and sharp so that you can grab them and go.
Don't do this all at once. It is supposed to be enjoyable and rewarding to have a tidy clean yard. So, break it up into segments if your yard is big. Start with the patio area, then the flower beds, and then the lawn. I admit that, because our lawn is big and all of our neighbors have lots of trees, we hire a company to do leaf clean up. It is worth it. No, we don't have trees, but we do get lots of leaves from our neighbor's trees. The price to pay to have some shade.
First, trim everything in that one area. Then rake and then bag the rubbish. I know that this sounds obvious. But in my experience, folks try to do this all at once and either throw out their backs or end up giving up because it is just too labor-intensive. Make a list of all of the areas in order by date and break it down over a couple of weeks. It could include just trimming one small area at a time, like the patio area, and then raking and picking that area up, rather than trimming everything in the yard all at once. My husband and I purposefully removed any bush last year that we were not totally in love with. One, we want a yard we love, and two, I don't want to nor am I motivated to trim bushes that I don't like or want. Read more here about how to set up a Butterfly Garden
Spring cleaning the yard-plan, plan, and plan again! It doesn't hurt…
I think that before you organize and plant a garden, the decluttering part takes thought and a little bit of planning. My motto is to break these tasks up into manageable bites.  This method has worked for me for 10 years. We planted a butterfly garden inside our patio in June 2009. We removed the grass and planted all of this ourselves. It took two years to cultivate and now all of it comes back every year on its own.
The hard part was done over a few years, and now we get to sit back and let it grow, trim a bit and declutter it once or twice a year and the image speaks for itself. Totally worth the planning and effort! 
More News-I have a super awesome and easy spring cleaning challenge starting April 1st. You'll declutter one small area of your home each day during the month of April. Join here and get your home ready for spring.