Time for a Change
Everything changes and, somewhere along the line,
I'm changing with it…Eric Burdon
This post is unusual as I am going to ramble on about a shift….a directional shift in the way I run my business. You see, it's time for a change. A change from the standard, "that's the way we have always done it", blogging style. Writing content is great, but not just for the sake of it. I want to write for specific reasons.
Time for a Change
It dawned on me last month. I had my first real challenge. I listened to you all and created a 30-day spring declutter challenge.  It was a great success. Why do I say that? I put more emphasis on engagement and less on email and posts. I know that is what you all want. More interaction and a chance to practice and have a voice. To speak about your challenges, your journey, and your successes.
I have a Facebook group and a Facebook page. I also have an Instagram account. Why?  To engage with you. For some time, I have been wondering why so much emphasis is put on writing posts and not on creating concrete challenges, materials, and meaningful engagement. I can spend more time on what you genuinely want. To have fun, to be actively organizing your home, and to engage with others doing the same thing.
So, here is the thing. I am listening. We will spend less time reading posts just to read posts and 1) challenge ourselves to be fierce home organizers, 2) engage and improve our skills, and 3) celebrate our journey and "high-five" each other. Isn't that what this is all about?
In the coming months, my "shift" will include 1) spending more time on Facebook and Instagram and engaging with you both live and via recorded video and post. Join my Facebook group, my Facebook page, and follow me on Instagram for some fun and seriously life-changing challenges that are practical and easy to use if you set aside the time!
I know you have noticed that the world is now engaging via VIDEO! Now, before you say "wait a minute" I love to read too. Don't worry. I am designing short eBooks for each challenge that I will charge a nominal fee. And I mean nominal. Home organization should be practical and affordable. I want to support a stellar business that works for my audience!
Thanks for reading -Time for a Change!
What is coming up:
Wow, what a month May has been, a true time for a change for me. I have been diligently organizing and planting my annual gardens. I highlight them on my Facebook Page every Friday at 10 am, along with the latest home organization tips and hacks. Jump over and like and join in on the fun. If you live outside like us in the spring and summer, this is for you!
What has been happening: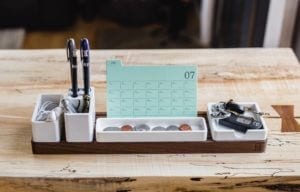 I am building a new fresh website. This has been a long time. My new site will focus on free worksheets, downloadable ebooks, challenges, and events. A small section will still be devoted to my blog to keep up to date on the latest in-home organizing.
By the way, did you know that clutter causes anxiety? There is a direct link.
You asked and I heard. Paper clutter is a nightmare. Let's do a short challenge in July to tackle that beast. More to come. Sign up to get the latest about this and other challenges and events!
I'm live on Facebook and Instagram every Friday! Yep. I'm just jumping off and diving into the world of live video chats. Join me every Friday on my Facebook Page and on Instagram (@ryoureadytoorganize) at 10:00 am for the latest in home organizing, to ask questions or pose your thoughts on the issues.
What are you doing for Father's Day or the 4th of July? I would love to hear how you are organizing your holiday events. Here are some great tips from Martha Stewart on how to keep your home organized for the Summer!
I am hosting before and after declutter challenges in my Facebook Group in the second week of June and the 4th week in August. Members either post or send me before and after pictures of one area of their home that they have decluttered and organized. These events are super popular so don't miss them and join my Facebook Group or follow me on Instagram (@ryoureadytoorganize) for all the fun!
Do you love birding? We are avid birders so I am taking photos and videos of our backyard birds and chatting about them on my Facebook Page and Instagram (@ryoureadytoorganize). Join in on the fun and post some of your own shots!
How about you? Do you think it's time for a change?