Wouldn't I be remiss if I did not share my most current 2021 best home organization tips with you? After all, it is now October and the year has three precious months left. And most of them will be filled with holidays, family, and wonderful memories. Halloween is one of my favs. But let's leave that for the next post…
How can we take just a few steps and use these 2021 best home organization tips to get almost 80% of our home in order…truly organized? And easy to keep organized? That is the real trick. The one we all crave for and need to keep ourselves sane and happy. And just what are these home organization tips anyway? Read on…
What are these 2021 Best Home Organization
Tips to get and stay organized?
Why are these tips important? They work hard for you to keep more easily keep your home tidy and "picked-up" so you don't have to keep repeating yourself. Meaning you pick up and put things into messy hall closets or stale pantries with spoiled, stale, outdated food. The key here is to keep your shelving, cabinets, and hallway closets organized so it is easier to put things away in their proper place. So they are easy to find.
How many of us have just picked up messes and opened the hall closet, kitchen cabinets, or out closets and tossed things in? Hoping for the best! With these easy-to-use tips and ideas, we can cut time organizing and finding the things we need. A win-win for us all.
Hall Closets
Simply put, the easiest way to keep our hall closets (no matter how big or small it is) tidy and our stuff visible and at our fingertips. Here are some of the items I use in mine. And believe me, I have a small hall closet:
[show_shopthepost_widget id="4586841″]
These essential, affordable ideas pay for themselves in the time they save organizing and keep things in order. I personally love organization ideas where I can see my stuff. So I can easily grab them. And labels do help, yet I do still love to see what I want to get to in a snap.
Kitchen Pantries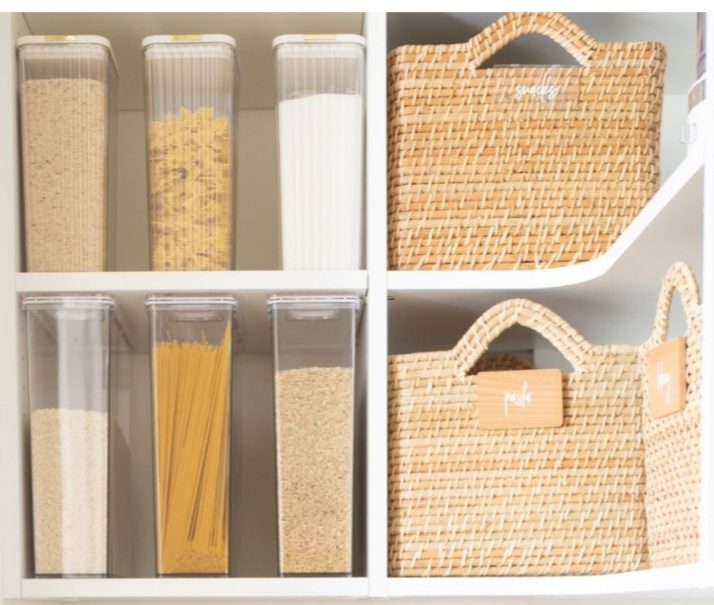 If you have been following along with me, you know one of my passions is to bake healthy recipes, particularly healthy, whole grain bread. And I love organized pantries because they make it super easy to cook and bake delicious, fresh recipes and meals. Stale, spoiled, or messy unorganized shelves can drive any cook crazy. So let's take a look at how to make our cooking more enjoyable and our meal prep and cooking faster.
[show_shopthepost_widget id="4586855″]
The clear design sleek shapes make them perfect for a fabulously organized pantry…or any kitchen shelf and refrigerator too. Grab yours and start having fun organizing your kitchen.
Reminder: Since Covid 19, items come in and out of stock quickly, so if you click on an item, please feel free to search for similar items from that link. You will find other wonderful options to choose from.
Did you know that I can shop for home products and ideas for you? I have a large inventory of stores and products to choose from. Email me to find out more: co*********@gm***.com.
I hope you found this post helpful. If you did, please drop a comment below and click the share buttons, and share it with your family and friends. Thank you again for joining in. It means so much to me that you did. And for more bonus info to get started organizing, baking and gardening, click to browse my post library filled with more goodies and tips to make our lives easier.
If you would like to join this free community and not miss a post, free worksheets, and workshops, sign up here:
And follow me on social media where I take my posts further with free live workshops and chats. Follow along on
Instagram
and
Facebook
. I would love to connect with you there too!
Until next time…we talk about everything closets, garages, and a little Halloween fun!