Closet Organizing Checklist
Use a simple Closet Organizing Checklist to keep your closet organized once and for all!
Decluttering your closet does not have to be overwhelming. In fact, most people believe this myth that it is too hard to do. Even the most cluttered home can't stand up to simple, daily small acts of decluttering. The clutter begins to dissolve before your eyes and your motivation becomes stronger and stronger. You become more and more accustomed to just automatically decluttering small areas of your home, like your closet, a little at a time. Your mindset changes and you get it-there are simple ways to easily declutter your home! You can start to envision the home and closets that you always wanted. Using my simple Closet Organizing Checklist will show you that keeping your closet organized is not as hard as you imagined.
Earlier I posted a flow chart How to Weed Your Closet you can use to declutter your closet. Read the full post here Organize the Closet.  I thought it would be helpful to create an easy-to-use closet organizing checklist that we all can use to maintain the "law and order" in your closet.
A Simple Closet Organizing Checklist!
Folks want to talk mostly about their closets when it comes to decluttering their home. There is a central point here. An organized closet saves lots of time and money. Everyone spends some time organizing what they will wear each day. Out of all of the areas that I write about, most people ask me to help them declutter and organize the closet. No matter what you do for a living-an executive, an electrician, a stay-at-home mom. Everyone needs to be able to go to their closets and see everything that they own in an organized fashion. Putting your closet in simple order is not as hard as it sounds.
I know the feeling. You go to the closet a few months after you reorganized it only to find it cluttered again. What happened to that neat and tidy closet you decluttered a few months ago? How did it get this way again? Let me tell you that maintaining an organized closet does take some maintenance. But not hours. Just a few minutes each month using the Closet Organizing Checklist and you will be on your way to an organized closet with your favorite wardrobes at your fingertips! Let's go through the simple Closet Organizing Checklist:
1.        Each family member takes ownership of their own closets. Make it a family affair!
2.       Declutter one closet at a time. Remove everything from the closet.
3.       Place all items on the bed by clothing type: shoes, blouses/shirts, trousers/pants, dresses, skirts, etc….
4.       Sort clothing by what you wear and love-by work and play, by what is worn-out/dated-toss, what doesn't fit-donate, what you don't wear-donate.
Time to Reorganize that Closet with the Closet Organizing Checklist!
Putting pieces into sections or areas of your closet will not only help you see what you have but help you get dressed faster in the outfits that you like the most. You will feel terrific and more put together no matter what your style!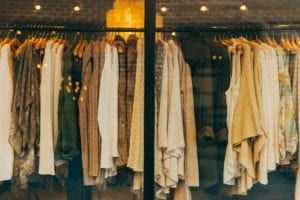 Ask yourself:
Do you feel exhausted when you look at your closet? Or do you excited and motivated? If you feel exhausted, you should look at what you have that you can wear that makes you feel fabulous and looks fabulous on you. Don't keep things that no longer fit, or that you don't feel fabulous wearing! If you have a few classic valuable pieces that you can wear, but it motivates you, keep them. But just one or two!
Don't keep clothing that you don't love and wear often. Toss worn items and donate pieces that don't fit. Don't fall into the trap of keeping clothing in the hope that you will be able to wear them in the future.
Now, section off your closet into categories:
1.        Blouses, sweaters, casual shirts with long and short sleeves, and tank tops together in one section.
2.       Skirts in one section.
3.       Pants of all kinds in another section.
4.       Suits and fine garments in another section.
5.       Dresses have their own section.
6.       Lingerie, sleepwear in another section.
7.       Shoes by type. I have an over-the-door shoe organizer for my shoes, and I put my boots on the floor.
8.      You can also make a section for your favorite outfits.
Tip, after you wear an item, hang the hanger backward so that you have an idea of what you truly wear and don't wear! You will be able to tell at a glance.
Tip, use apps in addition to my Closet Organizing Checklist Method to organize your wardrobes:
Closet Space
Upload photos of your newest purchases, along with snaps of the items already in your closet, to create a clothing and accessory catalog. Once your virtual closet is complete, the "My Outfits" feature helps you craft perfect pairings based on color, cut, and your personal taste. Worried about repeating an outfit? The app (free at itunes.com) even connects with your Google calendar to note the date each look (complete with accessories) was worn.
Cloth
Snap selfies in your favorite looks, then save and categorize them in the app (free at itunes.com). Cloth archives your outfits then uses real-time weather data to give you appropriate suggestions based on the day's forecast. Need a little inspiration? You can also browse a feed of trending street-style shots.
Stylebook
Import your favorite pieces to plan outfits, make vacay-packing lists, and track your old classics and new purchases. The app ($4; itunes.com) tallies how often you wear each piece so you can prioritize what to keep and what to ditch when it comes time to purge. Here's where it gets good: If an outfit leaves a little something to be desired, you can shop for additional pieces directly through the app and see how new finds fit in with your favorite looks.