As the seasons change, so should your cleaning routine. That's why we need a complete fall cleaning checklist. You might already conduct an annual spring cleaning, but it's just as important to give your home a refresh once summer comes to a close. Fall typically brings cooler weather and more time spent indoors, which can mean increased foot traffic, dust, and debris. It also signals the approach of the holiday season, which often brings houseguests and extra cooking along with it. Deep cleaning an entire home, however, is a big job, and sometimes even tackling a single room can be overwhelming. To make seasonal cleaning a breeze, break down each room into a checklist of must-do tasks. Then integrate cleaning into your daily schedule to make it feel less like a chore. Follow this fall cleaning checklist for a room-by-room approach to tidying your home for the season.
Here is a little history lesson: How did the season "Fall" get its name?
The origin of "fall" as a name for a season isn't perfectly clear, though it's thought that it probably came from the idea of leaves falling from trees (particularly the contraction of the English saying "fall of the leaf"). It first popped up as a name for a season in late-16th century England and became particularly popular during the 17th century, at which point it made its way over to North America. "Autumn," meanwhile, came to English via the Old French autompne, from the Latin autumnus. From here, things get murky, but it's thought autumnus probably came from an Etruscan word and is possibly related to the Latin augere, meaning "to increase." 
Calling the season autumn first occurred in English in the 12th century, though was a rarity until around the 14th century. It then began to pick up steam and became common in the 16th century—about the same time "fall" popped up as the name for the season. Before the season was autumn or fall in English, though, it was called "harvest."
Another great reason is we need a complete fall cleaning checklist. Get the deep cleaning done and out of the way.
The kitchen is often the center of the home, where everyone gathers when they get home from daily activities. Fall weather lends itself to muddy shoe prints that get tracked into the kitchen. Cooler weather also means less outdoor grilling and more indoor cooking, which can do a number on kitchen surfaces. With more time spent indoors, it's important to stay on top of tidying up, especially on surfaces that come in contact with food.
Dedicate a few minutes after dinner to making kitchen cleaning easier. These three tasks can be done in ten minutes or less and can easily work their way into your after-dinner cleanup routine.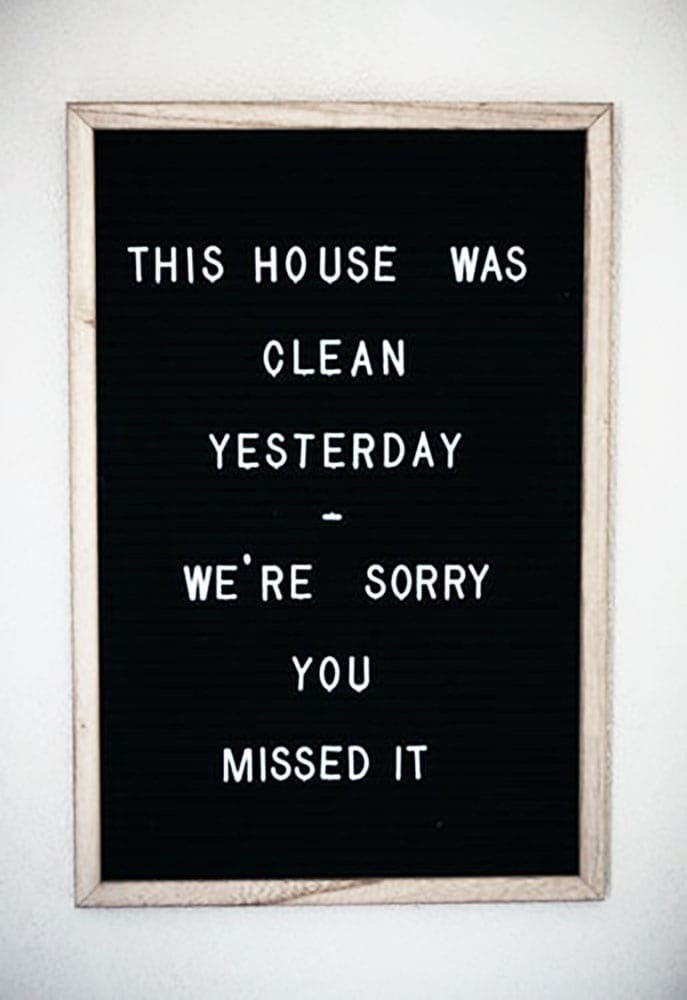 My clients and I use these similar products to deep clean our homes:
[show_shopthepost_widget id="4220958″]
[show_shopthepost_widget id="4220959″]
Kitchen Cleaning Checklist
Clear off counters and wipe all countertops, doors, and items clean. Use the natural homemade safe cleaner I use at home-One part 70% Isopropyl Alcohol and one-half water. Add a few drops of natural essential cleaning oil for scent if you wish.
Swiffer or sweeping and mopping the floors and scrub the baseboards with a magic eraser every few days or when there is high traffic.
Scrub the sink each day in the am. Check the trash to see if it needs emptying. Don't want a smelly kitchen when we wake up.
Bathroom Cleaning Checklist
Your bathroom is an important space to clean, no matter what the season. It's the room in which you bathe and prep for the day, so it should be freshened up regularly, too. Keep your bathroom clean by accomplishing small tasks every day.
The bathroom checklist is exactly the same as the kitchen one: clear off counters and wipe all countertops and doors and items clean. Use my natural homemade safe cleaner I use at home-One part 70% Isopropyl Alcohol and one-half water. Add a few drops of natural essential cleaning oil for scent if you wish. Sweep the floors and scrub the baseboards with a magic eraser. Scrub the inside and outside and behind the toilets. Wash all your towels and add vinegar to the rinse cycle. It flushes all of the soap and softener residue out and freshens them.
Living Room Cleaning Tips
Fall is the perfect time to cozy up in the living room around the fireplace. With increased use, however, living areas can quickly collect clutter. Family night in the living room can also mean snacking on the couch, which leads to more spills and stains. Stay on top of tidy appearances by doing a quick pick-up each evening. It takes just a few minutes to do a quick living room refresh with these daily living room cleaning tasks.
Living Room Cleaning Checklist
Pick up clutter.
Remove all items from shelves and dust and dust thoroughly.
Spot clean spills.
Freshen upholstery by sprinkling backing soda with a cheese shaker and vacuum.
Vacuum carpets and/or mop the hard floor surfaces.
Bedroom Cleaning Tasks
Days get shorter and nights get longer when fall comes around. Make sure your bedroom is tidy and clean for unwinding at night. For those who sleep with the window open throughout the summer, closing for the season can lead to shocking amounts of dust and pollen collected on bedroom surfaces. Clean up this essential spot for relaxation with a regular bedroom cleaning ritual.
Launder all sheets, pillow covers, blankets, bedspreads, and curtains (if they are washable. Otherwise, have them dry cleaned).
Shake all rugs and air out.
Rotate mattresses.
Remove all items from dressers, nightstands etc., and dust and wipe thoroughly.
Outdoor Cleaning Essentials
Cold weather can do a number on your home, especially if certain areas aren't prepared correctly for the shift in weather. Fall is the time to retire patio furniture and spruce up your exterior, including a few important maintenance tasks, before winter hits. Here are some important home exterior cleaning tasks to complete this fall.
Rake leaves.
Clean gutters.
Power wash house exterior.
Clean patio furniture and store it away for Spring (if you live in colder regions).
Have your chimney cleaned and inspected by your local fire department. This is usually a free service.
Read my recent post on making your own natural cleaners. Be safer and save money at the same time!
Never miss free worksheets, live classes and posts. Only two a month. Promise…
Until next time sweet friends. We talk pumpkin chili and organizing our pantries! Just in time for stocking up for the holiday feasts…