Get that pantry ready
for the holidays…
The holidays are one month away. Unbelievable. I would be remiss if I did not start the holiday prep cycle by cleaning out your pantry and kitchen drawers. So it's time to get that pantry ready for the holidays. I snuck a picture of my pantry armoire above to give you a sneak peek of my pantry. But first, a little trivia…

Did you know that the word "pantry" comes from the Old French word "paneterie" meaning from "pain", the French word for bread? In medieval times food and supplies were stored in specific rooms: meats were stored in a larder, alcohol stored in the buttery, and bread was stored in the pantry.
The butler's pantry was traditionally used to store silver, serving pieces, and other kitchen-related items. Because the silver was kept under lock and key in the butler's pantry the butler would actually sleep in the pantry to guard against thievery. Nowadays, modern homes have butler's pantries usually located off the kitchen or between the kitchen and the formal dining room. Typically you will find countertop space to rest food or to prepare the dishware prior to serving.
In pre-war America, smaller homes did not have closets, cabinets, or pantries for food and kitchen storage. In the early 1900s the Hoosier Cabinet, made by the Hoosier Manufacturing Company in Indiana, was created to be an all-in-one pantry and kitchen for the new American home. Most Hoosier Cabinets stood about six feet high, four feet wide and about two feet deep – making it a perfect size for small kitchens. The cabinet was typically sold with built-in storage bins and containers for everyday items like flour, sugar, coffee, tea, and household spices. 
First things first-Weed!
Go through your entire pantry. I have a small kitchen, so my pantry is a nice armoire that I bought some years ago. Here is a search that I did on armoires with glass doors.  Since I don't have much cabinet space, this beauty comes in real handy and holds almost all of our dry and canned food. It also looks very charming in the kitchen and I have gotten lots of compliments on it.
How I Weed and Get That Pantry Ready for the Holidays
I have a very tiny home. I love it. So easy to clean and organize. The downside…I have little space. How do I create space for storage? I declutter often. As often as I can. Especially just before the holidays. When you think of weeding, I want you to start with the outdated items-then toss. Second, weed out the items that you won't eat or don't really like. You can donate these to the local food bank. Then take each shelf and designate a theme. My pantry shelves are:
Dog Food
Canned Food
Dry Food/Snacks/Soup
Baking
I don't label my shelves as all of the kids are grown. But if I did, I would definitely give them labels and designate one entire area for healthy snacks and lunch items.
Here are some wonderful storage pieces for any organized pantry:
[show_shopthepost_widget id="4229656″]
[show_shopthepost_widget id="4229658″]
[show_shopthepost_widget id="4229665″]
Pantry Tip
Hack: I always check my pantry when I am making my grocery list so I never buy what I don't need. I don't use apps or lists as it changes too often. If you need to, snap a picture of it like I did (pic here) before you go to the store. You can then look at the picture and voila, you have a snapshot of all of your pantry goods.
A Special Place for Holiday Cooking Items
Next, make an area in your pantry for your holiday meals. This makes prep and cooking easier as all of your canned and dry goods for your holiday meals are in one area of your pantry.
Another good idea to save time in the kitchen-clean out your drawers. Weed your "thingamabob" drawer as you will want to have all of those assorted items at your fingertips.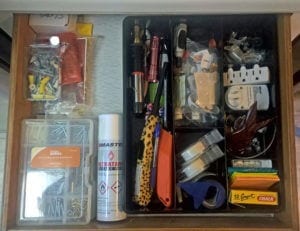 Another great tip for getting ready for the holidays is to prepare homemade stock in advance and freeze it. Have you ever had mashed potatoes with homemade veggie stock? Delicious. For more tips and simple ways to organize your home, head over to the blog.
I'm sending out a free pantry organizing checklist on November 16th. Sign up to get you and other home hand project checklists delivered right to your inbox each month. And be the first to see all of my helpful tips. 
Up next, we are cleaning out our closets. Don't forget to sign up so you don't miss this great easy-to-follow flowchart. Nothing feels better than sorting and giving our closet a refresh for the New Year.