What can be better this fall than delicious easy paleo and keto pumpkin chili recipes? Fall is made for chili. Well, OK, for sweaters and chili! Pumpkin becomes a staple in our house in the fall. We use it for sweet and for SAVORY dishes. And this easy pumpkin chili recipe can be adapted for a variety of diets-particularly for keto and paleo diets.
Why do this easy paleo and keto pumpkin chili recipes work! It is savory, rich, and low in calories and fat. It's CHILI. A win-win! The versatility of this recipe can't be beaten. You can mix and match ingredients and still not lose any of the rich flavors. And…
You can freeze it.

You can cook it on the stove, in the oven, in the crockpot, or in the instant pot.

You can make a base recipe and then change it up right from the freezer. Make it keto or paleo or full strength.

You can jazz it up and add so many delicious toppings- avocados, tomatoes, onions, sour cream, etc…
Here is a little history around the birth of the chili recipe!
In writings from 1529, the Franciscan friar, Bernardino de Sahagún described chili pepper-seasoned stews being consumed in the Aztec capital, Tenochtitlan, now the location of Mexico City. The use of beef as the primary meat originated with Spanish colonizers.[1] In Spanish, the term "chile con carne", consisting of the word chile (from the Nahuatl chīlli) and Carne, Spanish for 'meat', is first recorded in a book from 1857 about the Mexican-American War.[1] A recipe dating back to the 1850s describes dried beef, suet, dried chili peppers, and salt, which were pounded together, formed into bricks, and left to dry, which could then be boiled in pots in an army encampment in Monterrey, of what is now Nuevo León, Mexico.[1][3]
Chili became commonly prepared in northern Mexico and southern Texas.[4] Unlike some other Texas foods, such as barbecued brisket, chili largely originated with working-class Tejana and Mexican women.[4] The chili queens of San Antonio, Texas were particularly famous in previous decades for selling their inexpensive chili-flavored beef stew in their casual "chili joints".[4]
The San Antonio Chili Stand, in operation at the 1893 Columbian Exposition in Chicago, helped popularize chili by giving many Americans their first taste of it. San Antonio was a tourist destination and helped Texas-style chili con carne spread throughout the South and West.[5] Chili con carne is the official dish of the U.S. state of Texas as designated by the House Concurrent Resolution Number 18 of the 65th Texas Legislature during its regular session in 1977.[6]
Without further ado, let's make pumpkin chili!
Pumpkin Chili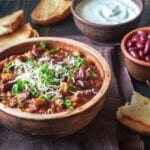 Pumpkin isn't just for sweets. They are delicious in savory recipes too. This chili will soon become a fall favorite in your family.
Soup pot
Large spoon
Knife
Cutting board
1 lb ground turkey
1 green pepper (diced)
1 onion (diced)
1 tbsp chili powder
1 tbsp cumin
1 tbsp garlic powder
1 tbsp onion powder
1 tbsp onion flakes
1 can diced tomatoes (not drained)
1 can black beans (not drained)
1 can pinto beans (not drained)
1 can pumpkin puree (not pie filling)
I use my Keto Taco seasoning for this recipe!
sear the meat, peppers, onions, with a drizzle of oil
add the spices-chili powder, cumin, garlic powder, onion, onion flakes, salt and pepper to taste
simmer for 10-15 minutes until the meat is done and the veggies are tender
add the pumpkin puree, beans, and canned tomatoes with the juices
simmer another 10-15 minutes
This recipe is delicious as is. It easily adapts to other diets. To make it vegan, just omit the meat and double the beans. To make it paleo, just omit the beans and add one cup more of veggies and 1/2 pound of turkey. You can also make it with apples too. I included a great video on both above. Bon Appetite!
I love solid durable cookware that lasts and lasts. Shop the best home cookware for your fall cooking:
[show_shopthepost_widget id="4236028″]
Love this? Then you have to check out these other delicious savory fall dishes:
Keto-Friendly Low Carb Taco Seasoning
Healthy Fall Casserole Recipes
Try adapting it to soups, dips cornbread, and enchiladas. Next up, I'm cooking up some savory Pumpkin and Black Bean enchiladas and a super simple quick homemade stock straight from the freezer.
Bon appetite!