Healthy holiday main courses and sides
Plant-based holiday cooking
Our family has made big shifts in our diet over the past few months and that means making healthy holiday main courses and sides.  Less meat and dairy for us; being plant-based means making healthy holiday main courses and sides. We had better get busy planning our first plant-based holiday menu.
As I said before, we eliminated meat and dairy and are eating more plant-based foods in an effort to live a healthier lifestyle. And, well I will say, to lower my hubby's cholesterol and help him lose a few pounds.
I lost 30 pounds over the last three years and now feel great. The change to a plant-based diet really feels great – for me, my family, my community, and the planet. It's a win-win!!! We are looking forward to our first holiday menu with healthy holiday main courses and sides.
So now I want to maintain it and live healthier; don't we all? And it wasn't easy. I had to study and research (and still am) plant-based recipes that we would truly love and want to eat. The truth be told, we love veggies and it was not hard to find those recipes at all.
Also, dairy has never agreed with me. When I was born, I was in and out of the hospital 10 times before I was a year old. It appeared that I was suffering from asthma attacks. Truth be told, I was allergic to cow's milk. Thank goodness I was not allergic to goat's milk and the visits to the hospital stopped. I did continue to eat dairy as an adult and sure enough, in college one year I had what seemed like an asthma attack. It was frightening. It felt like I could not breathe. Seems it turned out to be my allergy creeping back…
Healthy holiday main courses and sides-the menu unfolds
I am now totally enjoying discovering such fun, delicious, and beautiful foods that don't make me sick, and that are improving my health. So, we are going to talk about a plant-based holiday meal plan!
It is so much easier to go vegetarian or vegan these days as we have lots of resources at our fingertips: great food alternatives in the grocery stores, the internet that has endless recipes and videos for us to watch, and books out there to guide our journey. I have spent the past two months prepping my pantry and preparing it for our new diet. Check out this handy pantry guide that I made to help you clean out your pantry for the holidays.
Healthy holiday main courses and sides were a success this year. I hope you will consider trying them. They are a special treat, take no more time than other sides
It was on the internet that I found my main course Mushroom Wellington courtesy of "deliciouseveryday" and pinned it to my Pinterest account board "Plant-Based Holiday Menus". My husband wanted a Beef Wellington and I asked him if he would consider a Vegetable Wellington. And of course, he declared "there is no such thing"! Now if you do not like mushrooms, you can use any other robust tasting veggie you please…I think beets would be fantastic and will probably try it.
Now the sides I invented myself-vegan mashed potatoes; roasted broccoli; charred cauliflower; roasted sweet spaghetti squash bowls. Here are the recipes:
Healthy holiday main courses and sides, going for more plants!
Vegan Mashed Potatoes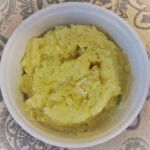 Fabulous delicious dairy-free alternative to traditional mashed potatoes. The celery gives this side a robust flavor.
1 bag Yukon potatoes
1/2 cup coconut or cashew yogurt
2 stalks celery-do not chop
1 tsp salt
1/2 stick soy butter such as Earth Balance
Peel and cut potatoes into 1-inch cubes. Add stock or water to a large pot. Place potatoes and whole celery stocks in the pot and bring to boil for 20 minutes.

Remove from heat, drain. Add soy butter, yogurt, and salt. Mash and enjoy. Sprinkle with chives or rosemary for an even more robust flavor.
The way to boost flavor! Healthy holiday main courses and sides don't have to be drab and tasteless…
Remember to stock up on vegetable stock (or make your own that's in my next post) and use my awesome post to declutter and prepare your pantry when making your potatoes. It gives them that wow factor above using just water!
Additional healthy holiday main courses and sides
The broccoli and cauliflower recipes are super simple. Just wash and cut veggies into 1 to 2-inch pieces. I do not add salt and pepper until they come out of the oven. And to cut more fat, it is not necessary to add any oil to these while they cook. Simply place cut veggies on a baking sheet and bake on 375 for 20-30 minutes. Remove from the oven and salt and pepper to taste. For added flavor, sprinkle red pepper flakes, and a little tamari soy sauce over the top and enjoy!
For the squash, just slice a large squash of choice down the middle and remove the seeds and pulp. Place on a baking sheet and preheat the oven to 400 degrees. Cook 35 minutes. Remove and flip over in the pan. They should be golden brown. If not, place it back into the oven and cook for an additional 10 minutes. Sprinkle with salt and pepper for a savory taste or as we like to, sprinkle a bit with organic brown sugar.
Next time around…
In my next post, I will talk about making a variety of freezer-friendly plant-based stock. This stuff makes anything you make with water taste phenomenal! Check out my awesome post on decluttering the entire home. If you entertaining at home and expecting company this year, you'll want to check each room now to get ready for the holidays!