Start your holiday menu planning in early December
Well, November has come and gone. It's time to get the kitchen organized and start the Christmas holiday menu planning.  Ah, all the great food. And all the time it takes to make it. It is so much easier if we start in early December and get "ahead of the game", which, come on, gives us incredible peace of mind. Everyone wants to enjoy a stress-free holiday season. So, no matter how you celebrate, lowering your stress and enjoying awesome food is key. And we must be intentional about how we want our holiday plans to work.
"People are so worried about what they eat between Christmas and the New Year, but they really should be worried about what they eat between the New Year and Christmas."
-unknown
Now, I will say for myself, I love to prep as much of everything as possible-the holiday menu planning is one of my biggest projects. So, I break it down into manageable bite-sized steps. Like I do with everything!
Action Check List-organize your pantry and your pots and pans
Now, this may sound mundane or silly. But trust me, if you go through and reorganize your pantry and your pots and pans cabinets, you would be ahead of the game! Check out my post on organizing your pantry.
"The kitchen is the heart of every home, for the most part. It evokes memories of your family history".  Debi Mazar was taken from BrainyQuote
Holiday Menu Planning – a simple plant-based menu
I talked about the importance of getting ready for the holidays. Now, one of the tasks you were assigned to do at the end of that post was to start creating your holiday menu. A few months ago, our family made big shifts in our diet. We started making plant-based healthy holiday main courses and sides.  Because I am allergic to dairy, we use truly little of it in our recipes. So, no more meat and dairy for us in our menu. I decided to get busy in planning our first plant-based holiday menu:
Our Plant-Based Holiday Menu
Appetizer- Simple Plate of Veggies and Hot Toasted Nuts– For these, I just arrange my favorite bite-sized veggies on a gorgeous plate and toast my favorite nuts.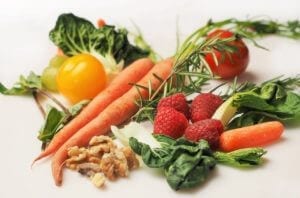 Main Course: Mushroom Wellington For this recipe, visit my Pinterest page. Recipe provided by deliciouseveryday.
Sides: Roasted Vegetables and Mashed Potatoes: As a side note, I posted the recipes for these two awesome healthy sides in my recent post- Healthy Holiday Main Courses and Sides.
Dessert: Warm Peach and Raspberry Crumble taken from a fabulous vegan cooking site called ForksOverKnives.  Now, I have to admit, I also love to add other fruit as well as fresh blueberries!
Add intense, delicious flavor to any dish that you use water for by using homemade vegetable stock. Now,  I found an incredible article from my favorite grocery store website that enhances my concept of making freezer-friendly stock.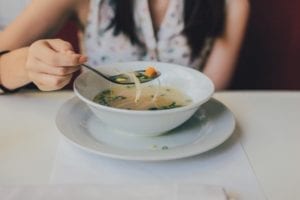 So, this recipe takes basic homemade vegetable stock and adds other ingredients to make a variety of freezer-friendly stock – Asian, caramelized onion, and mushroom stock. I plan on jumping on this next week and stocking my freezer for my holiday menu planning.
Holiday Menu Challenge!
Assignment: Now, grab a pen and paper and start listing your healthy holiday main courses and sides. Choose from mine, your own recipes or get out there on the web and search for more. So, your holiday menu planning now will:
Give you more time to plan a healthy satisfying menu
Get your menu ready and organized
Help you cook an entire menu without feeling overwhelmed and stressed out
Allow more time with your family and guests
And, will cost less as you prepared and shopped using a list and a plan
And most importantly!
So, it will make it easier to clean up the kitchen because you will have a clearer plan of action and a clear map of what happens when. Now, take holiday meal planning one step further write your menu down and add the prep and cooking to a calendar. For example, I start four days before any holiday and schedule the prep and cooking of each dish. So, I will, for example, peel my potatoes the day before and place them in water in the fridge and then wash and peel the veggies a day or two in advance and bag and place them in the fridge.
Next-
Now, break the menu down.  And, assign each item to the day and time you want to prep and cook them. Next,  I found that writing my prep schedule going backward ensures that I won't miss any steps. For example, let's say I am cooking two or more recipes at once.  Now, get out the meal planner I have provided in the links in this post. Stop and layout each recipe and start putting all of the steps for each recipe on the daily planner. Now, work backward from the end of cooking to the start.
Now, I would love it if you would take a moment and leave a comment.  And, feel free to add your favorite healthy holiday recipe ideas and comments. Next, I will talk about some amazing simple tricks to keep your fruits and veggies fresh for two weeks.
Tidy Tidbit-Fabulous Uses for Vodka!…
Ok, get a pen and paper to take write this down! I am a big America's Test Kitchen fan. I subscribe to their channel and recipe database. I watched a fabulous video on crafting the perfect pie crust. Frankly, the secret is adding a quarter cup of vodka to your favorite pie crust recipe. Honestly, it makes the dough perfect, flaky, and crispy yet moist. Give it a try to drop a comment. I would love to hear how you liked it.
Bon appetite!