Use home organization mapping
to create your dream spaces
Last time we talked about home organization resolutions and intentions-and using a system that I call home organization mapping. The term mapping means simply drawing your vision of how you will use each space in your home.
The person who can bring the spirit of laughter into a room is indeed blessed – Bennett Cerf
Now, you can, if you are an artist, hand draw each space, closet, and specific area of your home by hand and sketch them. Me, however, I cannot draw. So, I chose this method.
If you would like to listen to the recent podcast of this post, click below:
Back in the Day Before Pinterest
We started our home renovation project back in 2000 when my husband and I bought our first home. It was a sweet one-level ranch-style three bedrooms, two baths with a full basement. It was built in 1966 and had some minor cosmetic changes done to it. So, when we moved in, my husband gutted it, except for the bathrooms and the kitchen. We decided to take them later since they cost the most money and were the most disruption.
Home Organization Mapping was Born
I didn't realize it at the time, but I was using my home organization mapping method back then to remodel our home. When I think about it now, it makes me chuckle a bit.
You see, back then we did not have Pinterest. What we did have were cameras and libraries. I spent two to three weeks going to local home improvement stores and taking pictures of shelving, paint, molding, furniture, and storage systems. Then, I went to the library and checked out loads of current home remodeling books. You know, those big ones with beautiful pictures and ideas. Since we have a small home, I looked for ones for smaller spaces.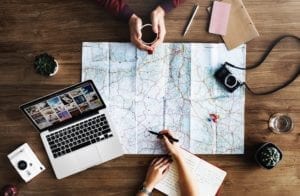 And then came the fun part. Actually, choosing the ideas that fit our vision and use for each space. This took some thought. We wrote down what we wanted to do, how we wanted to feel and what we wanted to get out of each area of our home. And, we now have Pinterest. Wow, do I love Pinterest. You can now browse the internet and pin your pictures and ideas on a board for each space. And that is what I ask you to do.
The Home Organization Mapping System
Here is how to use the Home Organization Mapping System:
Checklist Please!
Journal what you want from each space. How do you want to use it, how do you want to feel using it and what space does for you and your family?
Try to underline the top three to four keywords from your journal about each space. So, if you want your kitchen to nourish you, to socialize in, your kids to study in, to love to cook in. Then underline those keywords.
After you journal and identify those keywords, it is time to draw-or like me start to find pictures that match your keywords. You can find books and magazines at the library for free (and most are in electronic form now), you can browse the internet, and Pinterest. Yes, Pinterest!
Now you can start pinning and cutting pictures galore. Keep in mind that you will need to narrow your choice for each space to a couple of top pics.
Now go out and look for the materials to make it happen. For us, our closets are so exceedingly small, and we did not want to build new ones. So, we bought simple coated metal shelving and got creative. We put various layers of this in each closet. I have plenty of room for everything…and it was inexpensive to do.
My New Kitchen Home Organization Map
I am going to end here by challenging you to start Home Organizing Mapping Boards for each of your rooms/spaces. Start your journal search for your ultimate vision and make it happen.
The form you have selected does not exist.
Once you have some cool, inspiring ideas in mind, it is time to look at the budget. Now, there are plenty of places that offer great comparative pricing on anything. I always match prices using Amazon Home Depot and Lowe's. I also love to visit my local hardware store with my vision pictures, and they give me hands-on care and ideas as well.
Next time I will talk about one of my favorite holidays-Valentines Day. How can we organize this holiday of love and share acts of kindness? Stay tuned…