With spring just around the corner,  it's time to plan a new year and new garden plans! I have the pleasure of following a wonderful blog all about plants!
Yes, it is almost March. And as avid home organizers, we are busy dreaming about our lovely spring garden. Whether you plant an indoor, an outdoor garden, or both. You will want to start shifting from the dream phase to the planning phase in March.
Why start a new year and new garden plans now?
I will use this wonderful article, New Year and New Garden Plans, from the blog, Plants and Beyond to show you. It takes about 2 to 3 months to plan a garden. And if you have more than one, it will take three or more.
Let's take this from the top. Planning a garden or recipe uses the same technique. You have to declutter and organize your tools, storage areas, and your garden spaces now!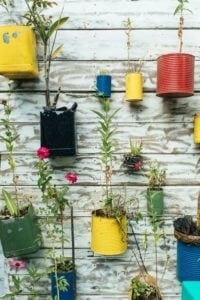 "The very first thing to do is to envision it through visitors perspective. Is there anything that is dirty, misplaced, overgrown and needs cleaning up? Do you need to sharpen your tools for the upcoming gardening season? How about simply washing them to scrape off the dust, debris or even old caked up dirt fungus, that you are not even aware of? Surely, there is no reason to spread the previous growing season's problems. The winter months are the best time to get out there and remove what does not belong in the yard.  This is the time to have a good sorting and cleaning of the shed and garage.
The next thing that you might want to think about is setting up a rose garden. These flowers on these shrubs look so alluring and smell divine. Pollinators take to the flowers, including hummingbirds and you! Imagine, coming out in the morning to actually smell the roses. The dream could be your reality if you simply start with a couple of rose shrubs that thrive in your own area. I read up on how to grow a rose garden and contacted local nurseries to ask what types grow well in specific areas, even in your own town. It could easily be split up in two different gardening zones due to variation in climate. My rose bushes happily surround and sometimes overtake one side of the garden. They need to be trimmed every season, although I have to say the reward of inhaling the aroma of one single rose flower makes all the positive difference. 
If you've always wanted to grow your own fruit or vegetables, then maybe this is the year that you are going to do it? For this, you have a bit of time still, as most of your vegetables will not need to be planted before late spring. However, its time to plan now. Thus, this site piqued my interest where you can find a different type of greenhouse for sale. The dome construction of these greenhouses sure look ergonomically designed to have in on the property and pretty functional to me. You may research what edibles you are planning on growing and calculate the time scale the desired seeds will need to germinate and develop further.
But then also, you might want to spruce up your outdoor dining space and patio too. The upcoming roses that will grow in your own garden will work so well as cut flowers. Placing them at the center of the table inside the house or on the outside porch table will add-on charm and vitality."
After you have cleaned and cleared the cluttered garden spaces, It's time to make a plan for each type of garden and plant you want. This sounds like a lot, but it's not. And becomes second nature once you get the hang of it!
Planning a garden is like planning a recipe. You work backward.
When do you want your flowers to bloom?
When do you want to harvest each vegetable or herb?
What are the steps clearing and cleaning your tools, pots and garden plots?
What climate zone do you live in?
How much space do you have to plant what you want? It's hard to plant squash in a small area. It spreads.
Pro Tip: Jump over to Better Homes and Gardens. They have garden plans for any garden ready to go. For small and larger spaces. And they have tools to help you think it through. The easy way!
What types of gardens will you plant this year? Drop a comment and tell me what your plans are for your garden!! Jump over to The Green Thumb in my blog and check out more great info on gardening.
**Article from New Year, New Garden Plans! from the blog Plants and Beyond