2021 Kitchen Styling Tips That Will
Impress This Holiday Season
Have we ever thought of this concept-2021 Kitchen Styling Tips? After thinking about decluttering, organizing, and staging homes, it makes perfect sense. Styling can apply to anything. What does it mean?
According to the good old-fashioned dictionary:
NOUN

the way in which something is made, designed, or performed
And where did it come from? I could not find the answer to this question. But I did find it for the term "Chic"!
In-
1600: The word as we now know it is said to come from the old French term, "chicanery," casually defined as "legal quibbling, and sophistry." Some also link "chic" to a German word, "shick," meaning "skill or tact."
1846: French critic Charles Baudelaire writes on the seemingly new word "chic," calling it a "horrendous and strange word, recently coined, that I don't even know how to spell."
1856: In Gustave Flaubert's novel Madame Bovary, one of the characters uses the word "chicard" as a form of Parisian slang to describe someone who is stylish and anything but bourgeois.
1860: The Oxford Dictionary claims that around this time, the word "chic" as we now know it started appearing in the English language. The variation "chicly" also appeared.
And we could go on and on…
And, who doesn't want style all around them. I don't mean expensive, pretentious perfectionism. That's not style. As we saw before, it is mostly in the "WAY SOMETHING IS PRESENTED AND/OR PERFORMED". So, let's take a peek at style meets function. Meaning when our kitchen counters look stylish and functional all at the same time.
Functional style in a kitchen means that it is presented well and performs well. There are 5 main principles to kitchen style and function.
1. The first tip for 2021 kitchen styling tips is to keep counters clear-UNLESS you are cooking. Staging your kitchen into sections, sections that work to best optimize your time and efforts. We want to cook really good recipes and to not kill ourselves in the process. So STAGING is very important-as well as style. This is very important to keep them in check. I like to keep my counters clear when I am not preparing meals. It gives me room for everyday tasks and projects. Like making coffee. A priority.
2. Keep a junk drawer. I have one, but I won't snap a picture of it. It's organized and ugly. Just take my word for it. Get one and keep all your incoming daily stuff in it and then promise me to organize it each Sunday (or whatever day you please). Just don't let it go and pile up on you.
3. Use compact, but powerful kitchen tools and appliances. I make my husband pick out my appliances as he is an electrician and mechanic and knows motors and the power and quality of anything. Smart man. Here are a few smart kitchen appliances and tools that I recommend. They give you top performance, reliability, lower cost, and are compact.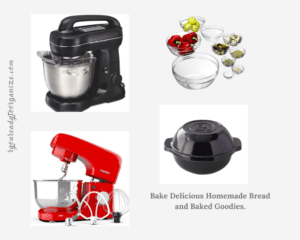 Shop for the items in the image above:
Hamilton Beach Electric Stand Mixer, 4 Quarts, Dough Hook, Flat Beater Attachments, Splash Guard … black and red.
Emile Henry Bread & Potato Pot black, red, or cream.
And a pair of my favorite knives: Zwilling J.A. Henckels Four Star 8-Piece Knife Block Set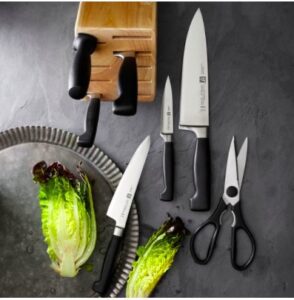 4. Use vertical storage. This applies to any room. You can see this quaint, sturdy, chic rolling cart fits right between my fridge and counter. It's hidden and holds all of my small appliances: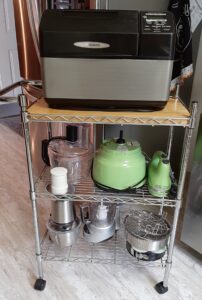 Shop for the items in the image above:
KitchenAid 9-Cup Food Processor with Exact Slice System various colors.
KitchenAid 5-Speed Ultra Power Hand Mixer various colors.
Electric Food Chopper, MOSAIC Small Food Processor with Garlic Peeler and 4 Titanium Coating Blades, 5 Cup Stainless Steel Bowl for Fruit Vegetable Nuts Onion Meat Salad Chopper, save an extra 8% with instant coupon.
Cuisinart DLC-2ABC Mini Prep Plus Food Processor Brushed Chrome and Nickel
Accessories Set for Instant Pot 5,6,8 Qt, 2 Steamer Baskets, Springform Pan, Egg Steamer Rack, Egg Bites Mold, Kitchen Tong, Silicone Pad, Oven Mitts, Cheat Sheet Magnet
5. Divide the counter space. That meaning-use stations to prepare meals. From, prep, to cook, to finish. I have a whole prep station just for baking. It makes cooking so much smoother and you can assign stations to helpers too! YES!!!! Here is an example of dividing counter space or assigning stations: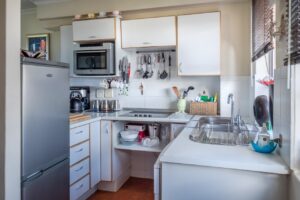 Shop for the items in the image above:
Wallniture Gourmet Kitchen Rail with 10 Hooks, Wall Mounted Wrought Iron Hanging Utensil Holder Rack with Black 17 Inch
Wallniture Delux 33″ Pot Rack, Cooking Utensil Holder with 10 S Hooks for Pots and Pans Organizer Under Cabinet, Set of 2, Black
Walford Home Original Kitchen Utensil Holder Crock, Teal with Premium Padded Base – Vintage Farmhouse Home Kitchen Decor – Large Kitchen Tool Utensil Storage Caddy Organizer
My Gift Beige Woven Seagrass 'Stuff' Design Desktop Storage Shelf Basket/Multipurpose Organizer Bin
Premium 16-inch Knife Magnetic Strip Holder for Wall with Powerful Double Storage & Charming Wood
Gevi Espresso Machines 15 Bar Fast Heating with Milk Frothier 1350W High Performance Coffee Machine for Espresso, Cappuccino, Latte, Mocha, 1.25L Removable Water Tank
Cuisinart Peak Porcelain Enamel on Steel Tea Kettle, Black
I hope you enjoyed these simple, but full-proof tips. Stay tuned because each week during the month of December, I'm featuring my top 5 tips for the bathroom, living room, entry way, and guest rooms! And as always, if you are not part of the community and want posts, videos, and worksheets right to your inbox, subscribe so you don't miss them:
You can also, if you are not a subscriber, use this box to subscribe and get a free holiday meal planner:
Need more tips and advice on home keeping including decluttering, organizing, staging, meal planning, gardening, and baking? Click to jump to the blog and browse the over 100 articles to get you started! 
See you then and HAPPY THANKSGIVING!