Here are 7 Make or Break It Spring Break Travel Tips! Spring Break is near!
We all need a few travel tips to make it the best Spring break yet!
I ran across this wonderful list published by a fellow organizer-Organized Surroundings (@organizedsurroundings) on Instagram and just had to share! Thanks to her for the great info!
Many of us will be taking trips. Here are some Make or Break It Spring Break Travel Tips:
1. Look into the weather – (you think you are going to get one thing and end up with another). Your travel wardrobe should be weather appropriate, otherwise, you will spend unnecessarily. Set a forecast alert on your phone and monitor the weather. I remember going for a beach vacation packing bathing suits and cover-ups and then getting 40-degree weather. We had to scramble and buy hoodies etc. 
2. Bring clothes that will do double duty. Basics are the key to versatile dressing! Tanks, cardigans, and tees are not as exciting as your bold pieces, but you will never have to worry about what to wear!
3. Color coordinate! This will mean easy outfit planning 75% neutrals, 25 % colorful pieces within the same color family.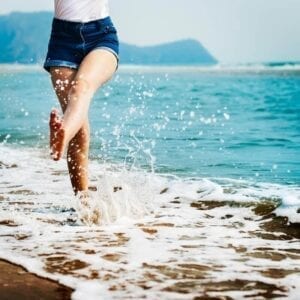 4. Don't over-pack shoes. Unless you are going to a special occasion like a wedding, three pairs of shoes should be enough. Try a walking pair, a casual pair, and a dressier pair. This way you have more space for clothing.
5. Get travel-size versions of your favorite beauty products, (remember TSA approved sizes). Think serums, facial moisturizers, foundation, and hair styling products.
6. Consider the clothing fabrics if you want maximum comfort; for warm weather, destinations think cotton, rayon, and silk. For cooler climates wool, cashmere, and knit.
7. Consider packing cubes, they help you pack more efficiently, they save actual space, and items are easier to find.
Here is a great article on Spring Break safety tips. Stay safe out there!
Next time we'll chat about some very cool easy space-saving tips you can use to make more space in your place!
Jump over and check out my patio butterfly garden from last spring. It's so easy to install and you will have loads of butterflies and hummingbirds to enjoy!